Mr Ramen San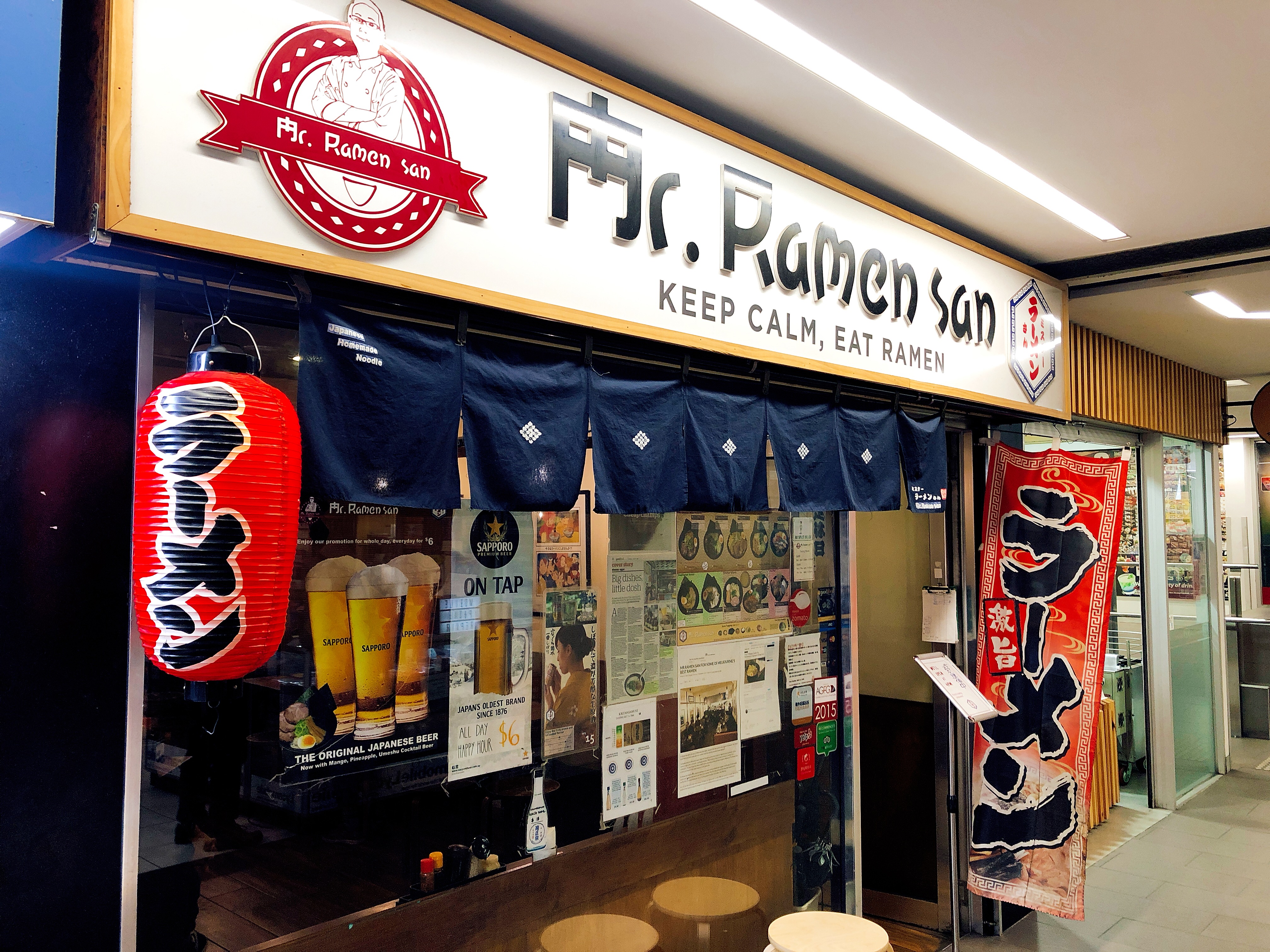 Ramen Zealot says:
One of the best ramen-ya in Australia. Mr Ramen San serves an innovative green tea twist to his tsukemen and some very impressive bowls of Kyushu-style tonkotsu ramen that will absolutely delight hardened ramen fanatics.
Upon entering Mr Ramen San you would be forgiven if you thought you had just entered a local Japanese ramen-ya with its two bars, small tables, quirky Japanense anime and movie posters adoring the walls and a hearty and cheerful Irasshaimase! from the staff. Mr Ramen San specialises in Kyushu style ramen – the ramen that originated in southern Japan in Hakata which has devotees around the world because of its flavoursome and milky, pork-bone "tonkotsu" broth and thin noodles.
I'm also going to make a big call about Melbourne's Mr Ramen San – not only does it serve one of the best tonkotsu ramen bowls in the country but has one of the best tsukemen in the world. Yes, that's a huge statement to make but having gone out of my way to eat tsukemen recently at two of Tokyo's renowned tsukemen ramen-ya I am confident that ramen zealots will agree with me.
Head chef Roystan-san is Mr Ramen San – a wonderfully cheery perfectionist who goes by the ethos of "keep calm and eat ramen". So much of a perfectionist he makes his noodles fresh daily on site.
Mr Ramen San is a "build your own" ramen bowl ramen-ya – that means you order the type of topping and pair with a style of soup. For example you can combine any one of the toppings: charsu pork; teriyaki beef; chicken; seafood or vegetarian with a soup style: tonkotsu; black tonkotsu; shoyu; miso; spicy tonkotsu or spicy miso. If you want to experience the best tonkotsu possibly in Australia then Mr Ramen San's charsu with tonkotsu is the way to go. For summer there is also the renowned tsukemen.
A bonus is that with the ramen you can order (for free), what is known as kaedama – extra noodles – if you have any soup left (which is true to the tradition of serving Hakata ramen).
BYO is welcomed but it's not necessary as Mr Ramen San has draft Sapporo on tap (at $6) and a range of sake – not your high-range stuff but sake of good stature and styles to keep a Tokyo salaryman content.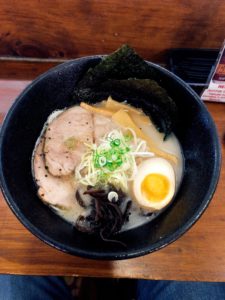 My first experience at Mr Ramen San would be the "do or die" bowl – the charsu with tonkotsu. The result is that I'm heavily addicted to it (and Roystan-san didn't need to commit sepukku). The bowl featured large and tender pork slices that sat on thin and firm noodles surrounded by a perfect ajitsuke tamago egg, two sheets of nori, slices of kikurage (wood fungus) and menma (bamboo shoot), topped with chopped leek and spring onion. The hero is the soup, a wonderful milky pork broth that has a silky collagen mouthfeel. It was simple elegance.
Mr Ramen San's charsu with spicy tonkotsu features all the toppings as the classic charsu tonkotsu but with the addition of what was more than likely spicy miso. It was robust and welcoming – one of those ramen that would be perfect on a cold day. I enjoyed it but the spicy flavour bomb that was added did mask the delicate elegance of the tonkotsu base – not in an abrupt way, but once you have savoured the classic version (it's just that good), you don't need to add anything else.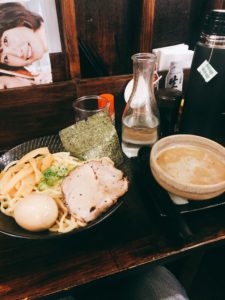 Tsukemen is always going to be a ramen-ya's greatest test and what intrigued me about Royston-san's tsukemen was the addition of yuzu to the noodle. The set came out with a bowl featuring the yuzu handmade noodle, nori, charsu and whole ajitsuke tamago. The soup bowl contained a broth made with sardines and makeral containing small pieces of charsu. Also to the side was a flask of green tea. Royston-san explained to me that tea was to add to the soup after finishing the noodles. More intrigue.
The soup was superb: intense and rich with the combination of flavours melding into a fishy not too salty mouthful and coating the noodles well when dipped. The yuzu noodles, with their subtle citrus flavour, helped to mellow the broth's impact. Genius. At the end you pour some of the green tea from the flask into the soup and another dimension to the broth is added. It adds a slight tannic sweetness – hard to describe – it needs to be experienced. Further genius.
After declaring to Roystan-san that he just served me the best tsukemen since Japan I bade Mr Ramen San to possibly Australia's best ramen-ya.
Mr Ramen San: Shop 12A (Mid City complex), 200 Bourke Street, Melbourne, Victoria 3000 Australia.
Lunch 11:30am to 3pm (daily), dinner Sunday to Thursday 4pm to 9pm and Friday to Saturday 4pm to 9.30pm. Ph: (03) 9042 1588. Website:
http://www.mrramensan.com.au
/
---
---