Hakata Gensuke (Russell Street)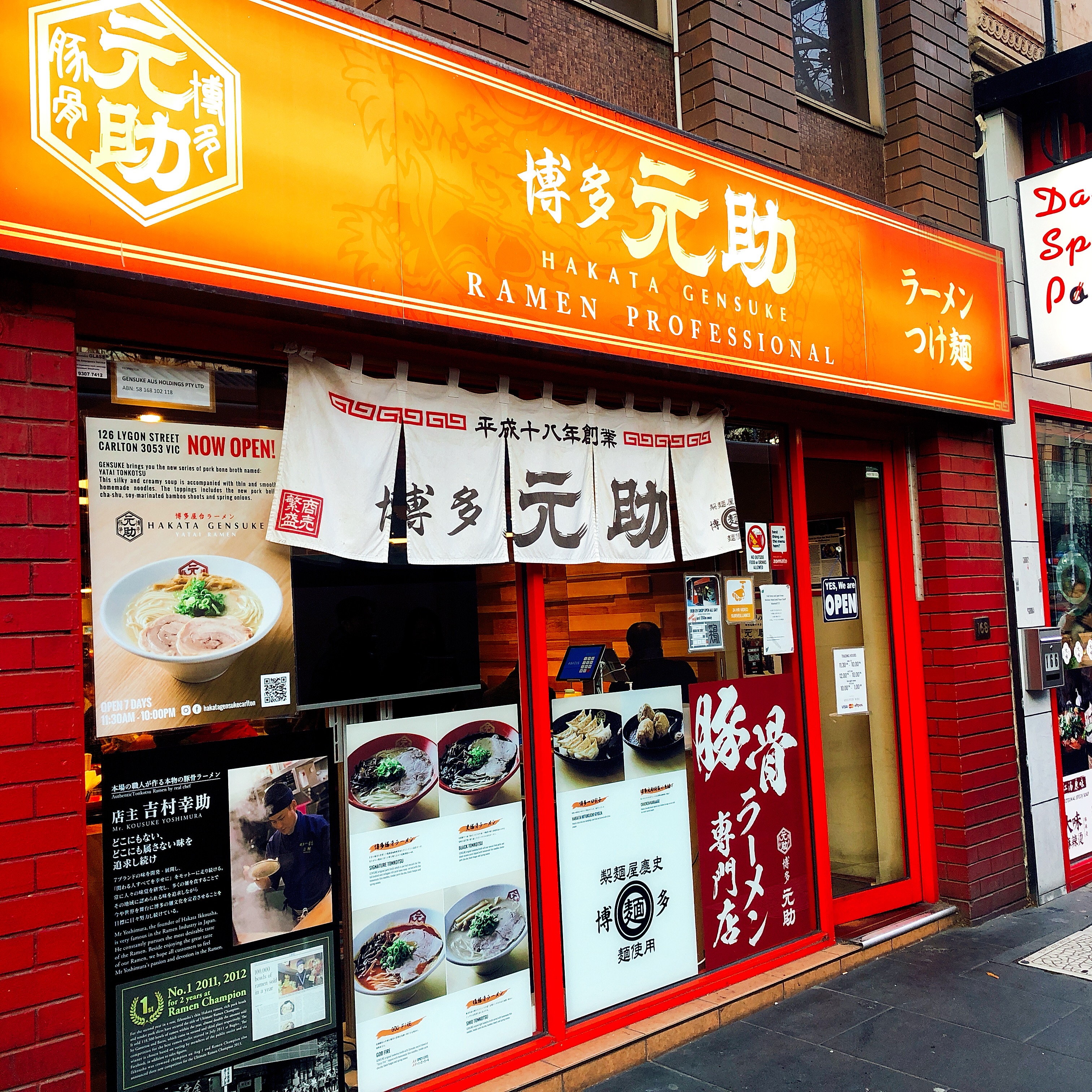 Ramen Zealot says:
Believe the hype – Melbourne's Hakata Gensuke delivers a near perfect Hakata style ramen and it's no wonder why there seems to be a never-ending queue of zealots waiting along Russell Street to get in.
I NEVER thought that I could ever acquaint ramen broth like fine champagne but that's exactly what came to mind when I first slurped the tonkotsu from Melbourne's popular Hakata Gensuke in Russell Street. I ventured there with Ramen Girl and the "Commish" (a mate from Perth who was about to indulge in his first ever ramen experience), just before we were to hit the excellent sake bar around the corner – Nihonsu. Ramen Girl highly recommended Hakata Gensuke – she had lined up to get in a couple of nights before with her hubby (there seems that there is always a line outside), and was eager to drag us along as she believed it was possibly one of the best soups she had had for a long while.
Ramen Girl was right on point (she usually is).
To order you receive a piece of paper and tick what ramen style you want plus any options and side dishes as well as the firmness of the noodle. We each ordered something different – Ramen Girl the Black Tonkotsu (with burn garlic oil); the Commish the God Fire (the spicy version), and I the Signature Tonkotsu (starting at $14) with "special toppings" – extra charsu, seaweed and ajitsuke tamago for $8 (all up $22). On the side we got a serve of gyoza ($5), and karaage chicken ($5).
Hakata Gensuke has five ramen-ya in Melbourne and lucky for the Commish – another in Perth (the original is the Russell Street branch).
It was founded (and overseen), by Kousuke Yoshimura-san (吉村幸助), who also has a ramen empire expanding from his hometown of Fukoka (home of Hakata tonkotsu) across the globe with his other ramen-ya "chain", Hakata Ikkousha in Singapore, Indonesia, USA, Phillipines, Thailand, Brazil and Canada.
Hakata Gensuke's thin noodles are made in-house in a temperature, climate and humidity control room, and it is claimed that chefs at all of the ramen-ya eat a full bowl each day to ensure quality.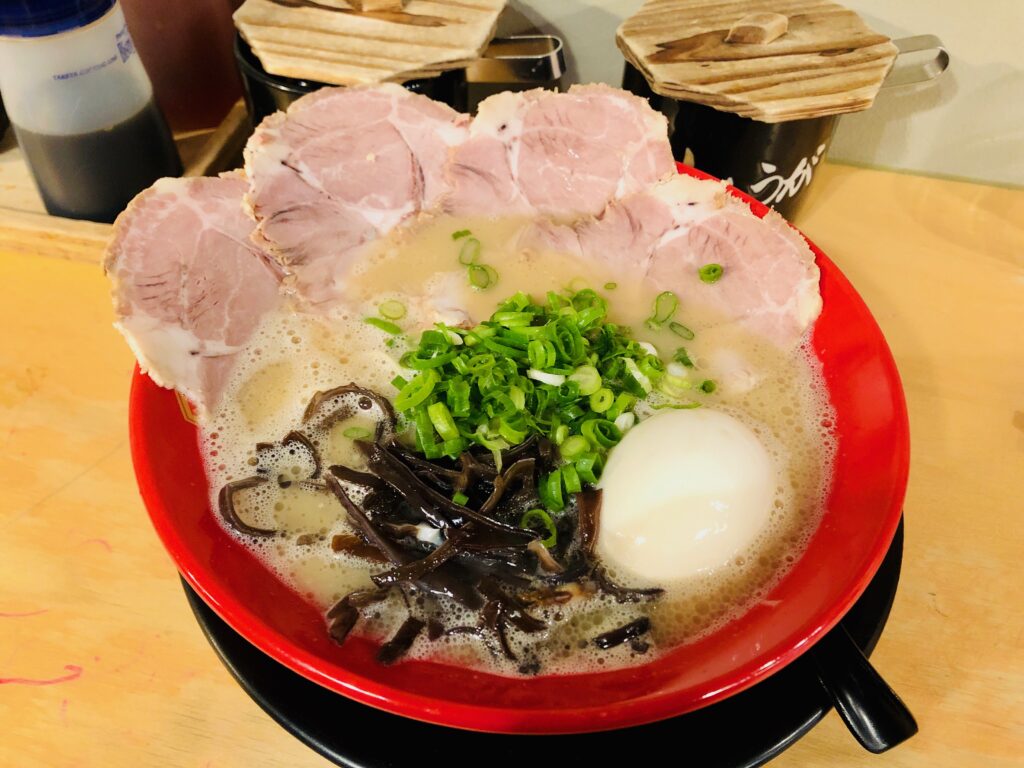 The Signature Tonkostsu will ordinarily be served with a slice of charsu, a mound of chopped green spring onion and strips of black fungus. The special toppings was a welcomed addition and made it a meal to prepare for the sake that would follow.
It was damn good, refined ramen.
The broth was creamy and light – one sip and fine milky porky infused bubbles would pop and engulf the palate (hence my reference to champagne). It left a creamy flavour of porky bone broth – not rich and not weak – just well balanced and satisfying. This refinement continued to the tender and moist charsu and perfectly chewy and thin noodles (true to the Hakata style).
Every sip was sheer joy and I was almost at a loss when the experience finished and I had an empty bowl in front of me.
Ramen Girl's glance towards me when I finished my bowl was predictable – it was one of those "Why did you ever doubt me?" expressions. She was satisfied with her Black Tonkotsu and the fact that she was right about the place.
The Commish couldn't believe a bowl of noodles could be so good and was eager the following week to hunt down Hakata Gensuke's Perth branch.
Me – I was just damn glad we went and shared experience together.
Hakata Gensuke, 168 Russell Street, Melbourne, Victoria 3000 Australia.
Open seven days a week – Monday to Friday from 11:30am to 11pm; weekends noon to 10pm with closing on Fridays and Saturdays at 1:30am. Phone (03) 9663 6342. Website:
https://gensuke.com.au/russell-street/
---
---