Menya Noodle Bar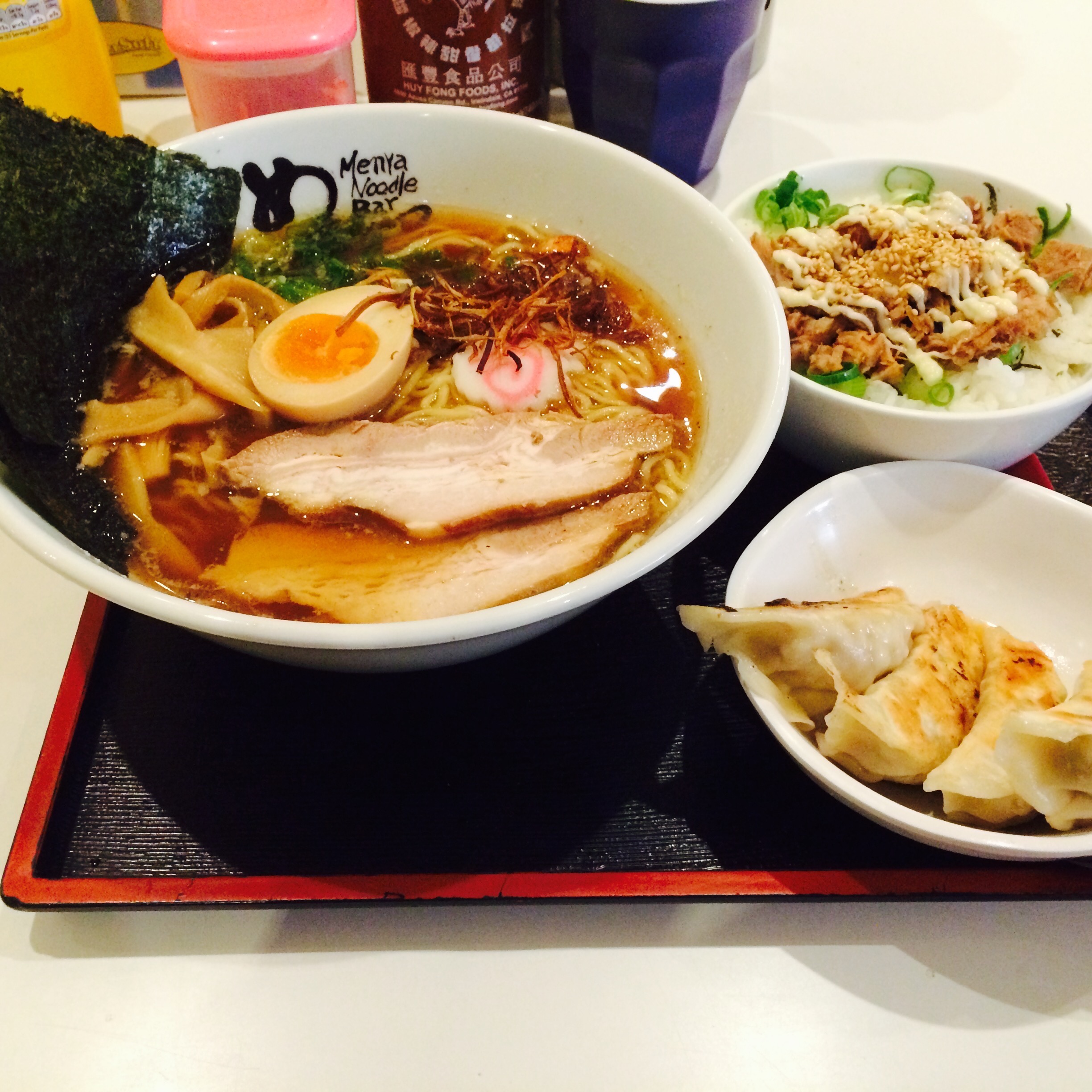 Ramen Zealot says:
Serving perhaps the best value ramen in Sydney – the Menya tonkatsu shoyu ramen at a mere $11.80 – is a lip-puckering flavoursome soup with tons of toppings that tonkotsu enthusiasts and beginners will enjoy. Menya Noodle Bar is cash only and can often be busy so be prepared to sit next to strangers.
Menya Noodle Bar is a place that I eat regularly when I get a ramen craving (which can be quite often as it's a five minute walk from my office), and was the first "ramen-ya" I ever went to in Sydney. When you enter Menya (at the bottom of the Princes Centre in Haymarket, you are always greeted with an enthusiastic "Irasshaimase!" by the chefs. Always. And that gives me a renewed energy to battle for a place along the bench at its long communal dining table with other ramen slurping Menya groupies.
The menu has a variety of ramen in four base broths – tonkotsu shoyu; tonkotsu miso (the pork bases); tori-gara shoyu and tori-gara miso (the chicken bases). There's the house "menya ramen" as well as the ton-toro ramen (roasted pork); karami ramen (chilli pork mince); kogashi-ninniku ramen (garlic); ni-tamago ramen (with soft eggs); teriyaki beef ramen; tori-katsu ramen (chicken schnitzel); and tori kara-age ramen (fried chicken). Menya zealots gravitate to the dragon jya-jya men (with chilli miso pork mince) and it also offers the karami-miso tsukemen.
Menya also has a selection of soba and udon noodle soups and a selection of rice dishes and sets.
The Menya tonkatsu shoyu ramen is packed with a flavorable tonkotsu pork broth with all the ramen toppings you need (char siu pork, frim noodles, half a tamago egg, narutomaki, menma and two seaweed sheets). It's hearty, filling and comforting.
If you have a big appetite the deluxe mini Menya ramen set is available ($15.90). The set offers a choice of either a tonkotsu or tori-gara based menya ramen; a plate of four plump gyoza and a choice of one of four rice bowls (menya curry; buta mabushi; teriyaki beef or chanko). I recommend the mabushi bowl (which is pickled pork) with the lighter chicken-stock based tori-gara ramen but if you have a sumo-sized appetite then you may have to have the protein rich chanko bowl (which is what the sumo eat) with a tonkotsu broth.
If you're not in the mood for ramen then I recommend the katsu don with miso soup ($12). Here you are offered a large rice bowl topped with a fried and well-seasoned chicken schnitzel which has a crunchy coating and juicy chicken inside. It's topped with an egg that is baked onto the rice and chicken. The bowl is perfect for the kids to share! For an extra $6 you can get a Menya ramen on the side but I have seen folks order such an addition and they struggle – it's a big meal.
Menya's inoffensive tonkotsu is perfect for those "graduating" to the style for the first time but has enough grunge to satisfy seasoned ramen zealots. If you like noise, love to slurp and don't like taking out too many notes or coins from your pocket – then Menya is perfect for you.
Menya Ramen Bar, Shop TG8, 8 Quay Street, Haymarket NSW, Australia.
---
---