Mugi to Olive (むぎとオリーブ)
IT'S exciting to be in Japan at the height of the country's ramen revolution where young and not so young ramen-ya chefs are being recognised for their innovation and cutting-edge bowls not only by long queues of zealots but also by renowned publications such as the Michelin Guide. Japan is possibly one of the only countries in the world where you can get a Michelin rated meal for about $10. One such ramen-ya that is taking ramen to new heights and is being recognised for its innovation and unique bowls is Muji to Olive in Tokyo's stylish Ginza's area.
Mugi to Olive translates as "Wheat and Olive" – wheat for the ramen noodles and olive for the virgin olive oil found at the ramen bar for adding to your bowl during the halfway stage to give it a richer and different complexity to the broth. It actually works very well and changes the flavour profile of its dishes and its this innovation as well as its marvellous clam and sardine soup base that has hordes lining up for one of the 15 counter table seats. The restaurant interior has a simple yet contemporary wooden countertop with water served in stainless steel cups. You can watch the chefs preparing your bowl like ballroom dancers gliding around the kitchen.
The ramen-ya serves serves three types of shoyu soup: one made with niboshi, (sardine), one with hamaguri clams and another with chicken. The "triple soba" option – which comes with a mix of all three broths – is the bowl that gets a lot of attention and praise from ramen zealots (as does the soulless mazesoba). Any of the menu items are easy to order at the ticket machine once you enter (for English speakers there is a menu above it to guide you to what order button to push).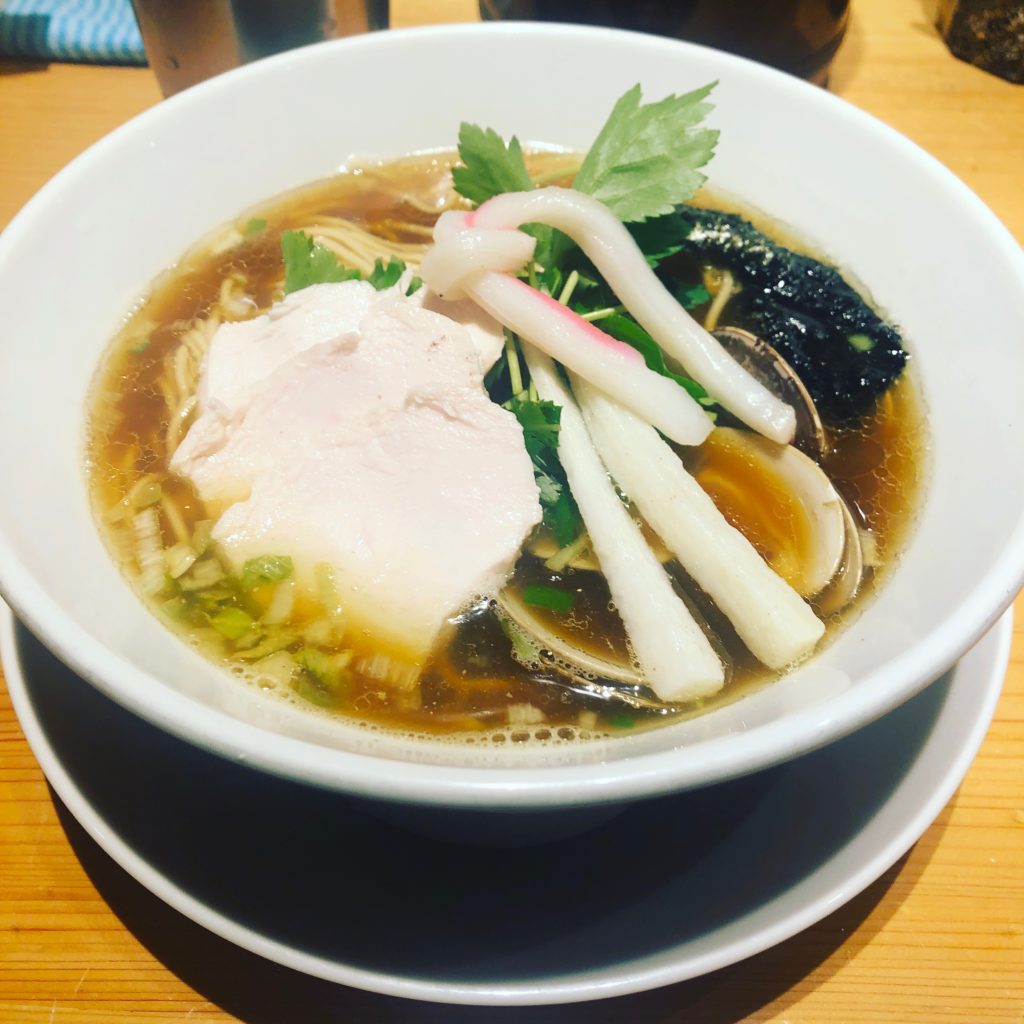 Adding a glug of olive oil to the bowl halfway is a must (and the ritual) – it certainly adds another dimension and more depth of flavour – the peppery and fruity oil working well with the stock adding more umami and coating the mouth to make the flavour last longer.
Mugi to Olive is a ramen-ya that should be on the list of any true ramen zealot.
Muji to Olive (むぎとオリーブ), 6 Chome-12-12 Ginza, Chuo City, Tokyo 104-0061, Japan or 〒104-0061 東京都中央区銀座6-12-12 銀座テラスビル1F.
Open Monday to Friday from 11:30am to 9pm and Saturday from 11:30am- to 10:45pm. Closest station: Higashi Ginza. Map:
https://goo.gl/Sv5pBr
---
---