Red Dragon Ramen
Ramen Zealot says:
Bali's Red Dragon Ramen prides itself in serving Yokohama-style Ramen and offering a variety of ramen classics and a lighter tonkotsu style perfect for Bali's tropical climate.
I WASN'T sure what to expect or if it was the right thing to do – having a bowl of steaming tonkotsu ramen in such a hot and humid place as the Indonesian island of Bali. Red Dragon Ramen prides itself on serving Yokohama-style ramen (Yokohama lekei), as well as tonkotsu and a variety of other ramen dishes rarely seen in the one place.
Yokohama lekei ramen was invented by former truck driver Yoshimura-san back in 1974. It's "family style" ramen" and is made by boiling pork bones and adding soy sauce. Variations include adding chicken bones to the mix and it usually has a lightish brown colour and is a lot "lighter" than some of the usual tonkotsu. Yokohama ramen traditionally comes with cha-siu pork, chopped leek, spinach, and seaweed (and Red Dragon's is right on point). The style is becomign popular in Japan is the perfect style if you don't want a "heavy, in-your-face" tonkotsu.
Red Dragon Ramen is a compact ramen-ya where diners can chose from being seated outside the front or on one of the tables out past the open kitchen (or upstairs if it is really busy). It prides itself on owning a state-of-the-art Japanese pressure cooker to makes it's broth. Their noodles are hand made on site.
I was impressed by the ramen on offer: aka (spicy), siro (original tonkotsu), kuro (Yokohama style); maze soba; tsukemen; and tam tam men. An impressive line up – a ramen one-stop shop. There's also the regular staples like gyoza and karaage available.
The rest of the menu is impressive and a highlight is the ramen sets. For A$8.80 you get a ramen of choice, five plump gyoza, a small appetiser and an iced tea. Alone the siro ramen is A$5.80.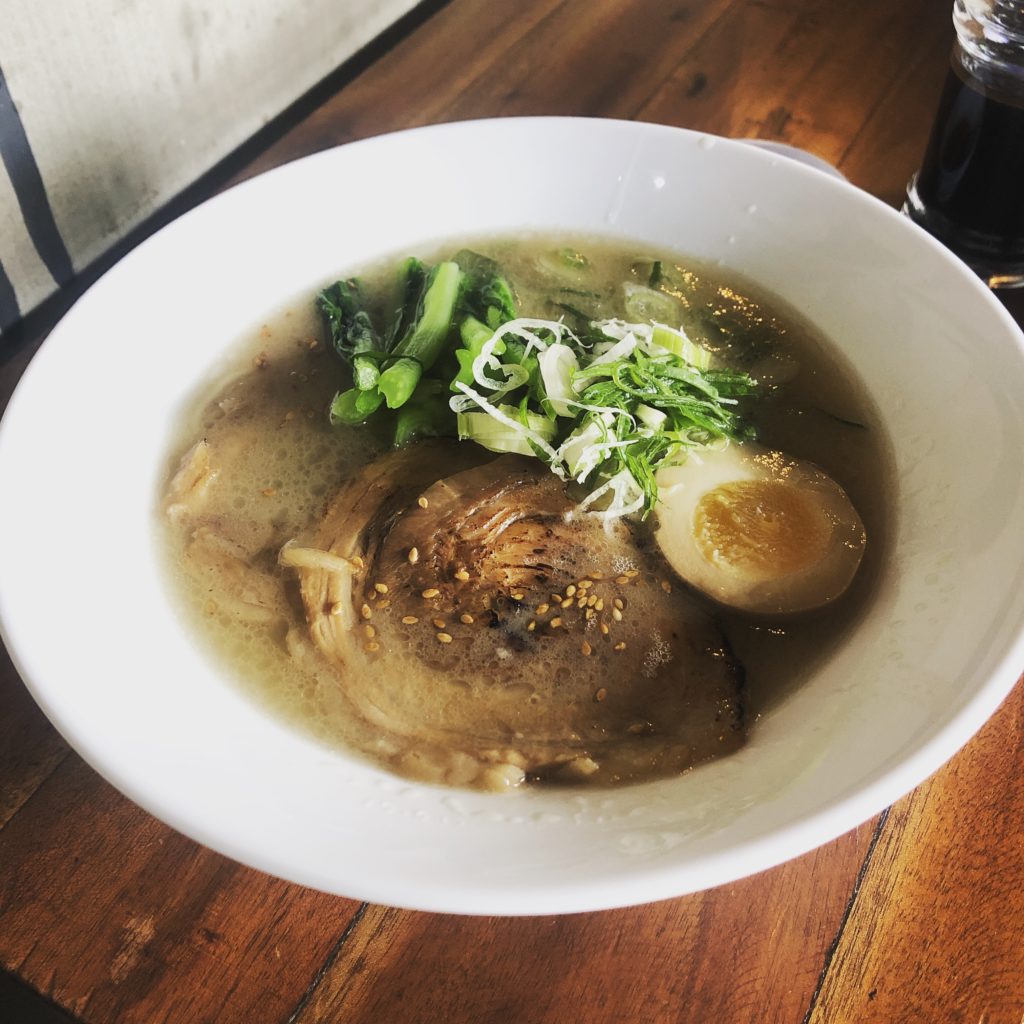 On my visit to Red Dragon Ramen I took my daughter who thought it was time to have her first slurp of ramen. And, as it was going to be her first ever ramen it had to be the king of ramens – the tonkotsu (shiro). We ordered it as part of the excellent value set on offer.
Simmered with pork and chicken bones, it had a silky, milky tonkotsu texture but is lighter than the traditional full-on Hakata tonkotsu. It was topped with a ajitsuke tamago egg; kankong (spinach) and spring onions.
We ordered a side of nori sheets to add to it – you can also add more char-siu if you wish but the serving, especially with the gyoza – is satisfying.
The roasted char-siu was fatty and melt in your mouth with a flame-grilled smoky flavour. The tonkotsu soup was delicate and silky – not overpowering – but still with that lip-smacking gloss that good tonkotsu has. The firm noodles topped off an excellent introduction to to the world of ramen for a new ramen zealot.
Red Dragon Ramen's impressive menu is a perfect place to explore the world of different ramen styles in a clean and casual setting not too far from the tourist hub of Kuta.
Red Dragon Ramen, Jl. Dewi Sri No.47, Legian, Kuta, Kabupaten Badung, Bali 80361, Indonesia.
Open seven days a week from noon to 3.30pm and 6pm to 10:30pm everyday. Phone (361) 934 2872. Website: www.reddragonramen.com
---
---