Shujinko
Ramen Zealot says:
A popular Melbourne ramen-ya where you can get a ramen fix 24-hours a day (and you will only find that in Japan)! Tsukemen needs more work so its true to form.
SHUJINKO fascinated me because this Melbourne 24-hour ramen-ya boasts as being able to continually serve ramen zealots bowls of ramen and tsukemen from dawn to dusk and throughout the night. I had aspirations to test whether Shujinko could deliver quality ramen at an insane early morning hour but Mr Sandman got the better of me that night so I popped in after the mid-week lunch rush to try out its tsukemen before heading back to Sydney.it
Even after 3pm Shujinko had a modest crowd – there is no doubt is popular – the night before my visit I saw people lining busy Russell Street just to get a seat.
The space is large – there is a bar wrapping around the kitchen where you can see chefs stirring, pouring and slapping noodles about (as in Japan), but this is Australia so the large area is full of tables to cater for groups. During busy times there no doubt would be fun and lively vibe and I swear what I heard over the loudspeakers I recognised Japanese indie band Straightener playing. Thumbs up!
Shujinko's menu has five traditional ramen styles – tonkotsu; spicy, black garlic oil; miso (all $14.80); and tsukemen. You can also also choose from a few udon bowls and there are the usual Japanese side dishes such as gyoza and karaage. A selection of sake and draft Kirin on tap adds to the ramen-ya vibe.
If tsukemen is offered at any ramen-ya I have high expectations. The tsukemen at Shujinko ($15.50), sadly wasn't what I expected.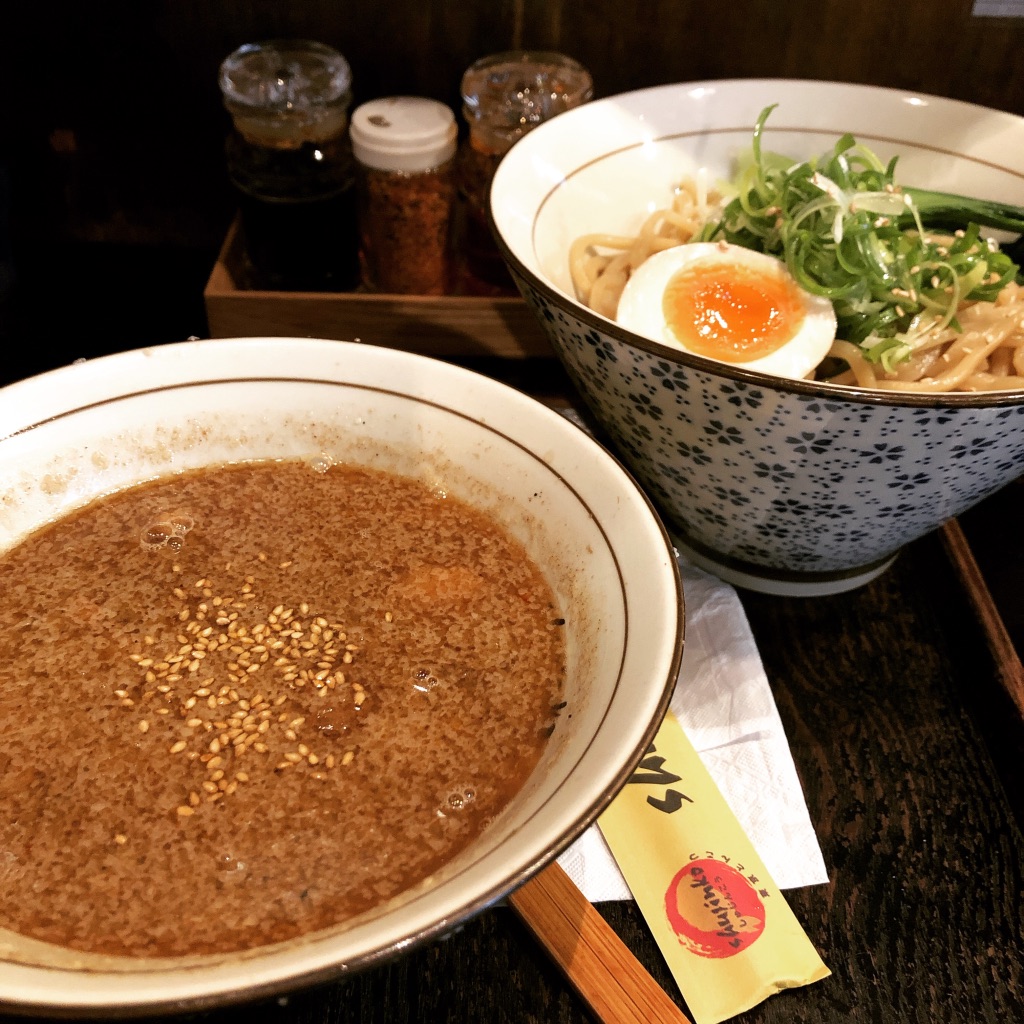 Out came a very large bowl of soup and a separate bowl of firm, thin noodles; half a boiled egg, bok choy and sliced spring onion. The broth, topped with some sesame seeds, had some nice chunky and hearty pork pieces within.
Usually a tsukemen broth is intense – a concentrated broth of fishiness (sardines, bonito, etc), toned down with chicken or pork broth with hidden delights of pork or other protein. Slightly viscous a true tsukemen covers the noodles and toppings. Sujinko's was also a spicy version (more than likely some spicy miso was added), the spiciness becoming somewhat overbearing and distracting after each consecutive slurp.
Unfortunately Shujinko's tsukemen wasn't up to standard. The large bowl of soup, although had a moderate sardine flavour, was watery and lacked any real viscosity – it didn't cover the well cooked and firm noodles – a real pity. There was no impact from the broth – that is – no lasting mouth-fill that you get with tsukemen. You certainly didn't need ask for any further soup to be added to it after finishing the noodles.
I haven't written off Shujinko off – with it being open 24/7 I'll be back to see whether this popular ramen-ya can deliver on its reputation for ramen.
Shujinko, 225 Russell St, Melbourne VIC 3000 Australia.
Open seven days a week, 24 hours a day. Phone: (03) 9654 0989
---
---