Hakataya Ramen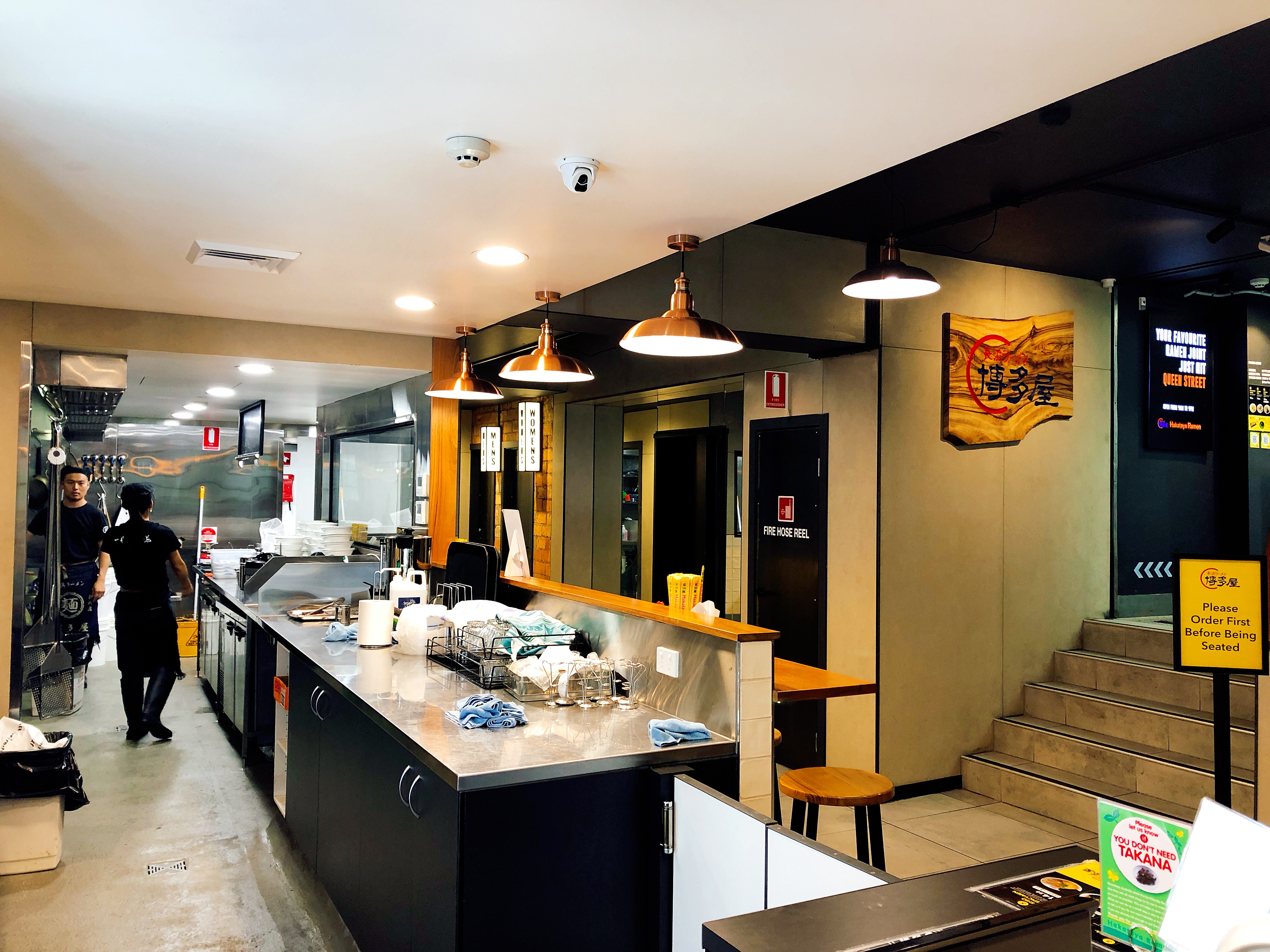 Ramen Zealot says:
Queensland's Hakataya Ramen is one of Australia's ramen pioneers and makes a solid tonkotsu broth and a bowl true to Fukuoka's Nagahama style but a tad overpriced when compared to similar offerings. Free kaedama on the day was a nice touch.
DOWN a flight of stairs off Brisbane's busy shopping district of Queen Street Mall lies a branch of Hakataya Ramen – a southern Japanese ramen-ya chain that has nine ramen-ya in Queensland spread from the Gold Coast up to Brisbane. Hakataya was one of the first ramen-ya to bring genuine Fukuoka-style tonkotsu ramen to Australia when it opened its first restaurant in Queensland some 20-odd years ago (back in 1996), in suburban Sunnybank – the great Asian enclave of Brisbane. It's a pioneer and deserves respect.
Their tonkotsu broth is boiled for over 48 hours and apparently stirred hourly to ensure consistency and melding of the flavours. It specialises in nagahama ramen which is a popular type of ramen in Fukuoka (closely resembling Hakataka ramen), but typically with thinner noodles as it was developed to be made quickly to feed hungry workers (apparently at at a local fish factory), with limited time for lunch. The style is now sold at local stands throughout Fukuoka as "a fast food ramen" – simple but staple enough to feed hunger. What also got me excited apart from the rarely seen naghama ramen was that Hakataya in Queen Street Mall also opened from 9am. Hakataya's menu is simple – concentrating on ramen – with just five soups to choose from: the original nagahama ramen ($12.50), charsiu men (extra pork – $16); karaka-men (spicy – $14); miso spicy$- 14.50); shio spicy men ($14.50).
Gyoza is available as well ($8.60) and Ton-meshi ($9) which is rice that has been made with tonkotsu broth and topped with shredded pork.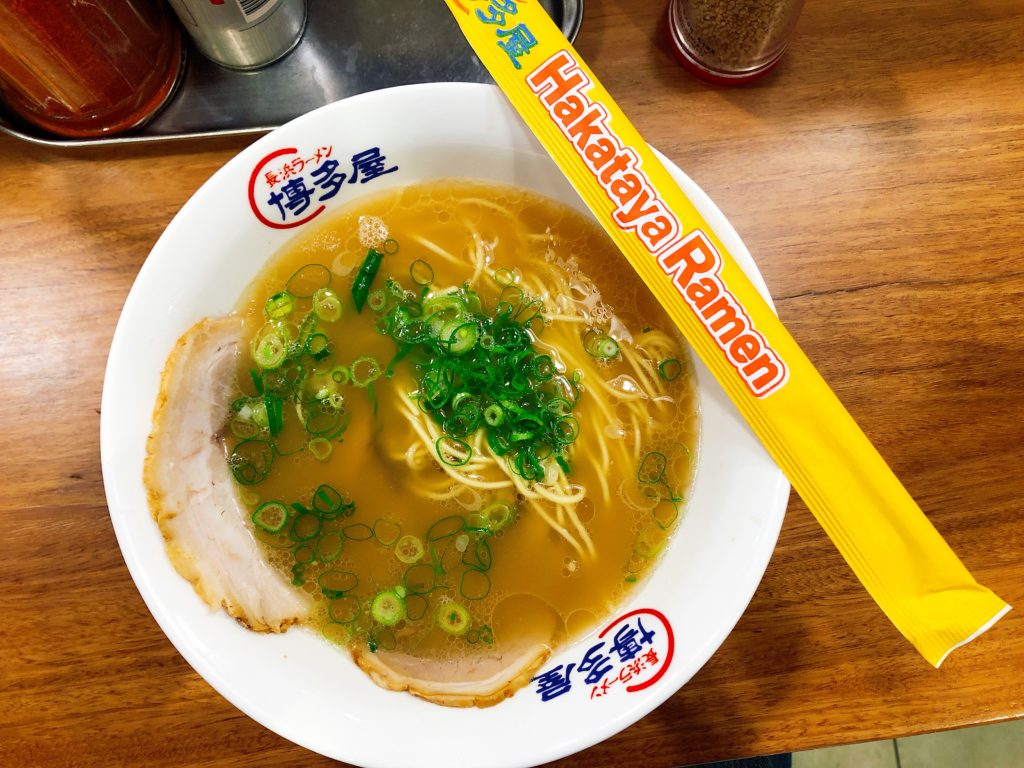 The nagahama ramen or (tonkotsu shoyu), was a light brown colour, nutty and flavoursome and gave me a nice coating of soft and viscous collagen layer to my lips. The noodles, thin style as they should be were blessed by a few minutes in boiling and were perfectly firm. The bowl was topped with two thin slices of charsiu pork and some sliced spring onion – and that was it (which, basically nagahama ramen is). The pork was well seasoned and melted in the mouth. A simple and tasty bowl, true to the style of this "workers' ramen" yet for the price it was just too simple. At other ramen-ya you would get a lot more toppings for the same price – perhaps another slice of charsiu would have been good. Free kaedama is on offer (so if you are still hungry leave some soup in your bowl), and you can top your bowl with some takana which you get on the side but with the lack of edibles the ramen ritual is over in a matter of minutes.
There is a lot of love and attention that goes into the tonkotsu at Hakataya and as an Australian tonkotsu pioneer a pilgrimage is worthwhile (especially if you can get to the original Sunnybank ramen-ya). If you're in Brisbane's shopping district and craving ramen it will certainly satisfy your addiction.
Hakataya Ramen, downstairs at 117 Queen Street Mall, Brisbane Queensland 4000 Australia.
Open seven days a week from 9am to 9pm. Phone (07) 3003 0600. Website: www.hakatayaramen.com
---
---