Ichibanboshi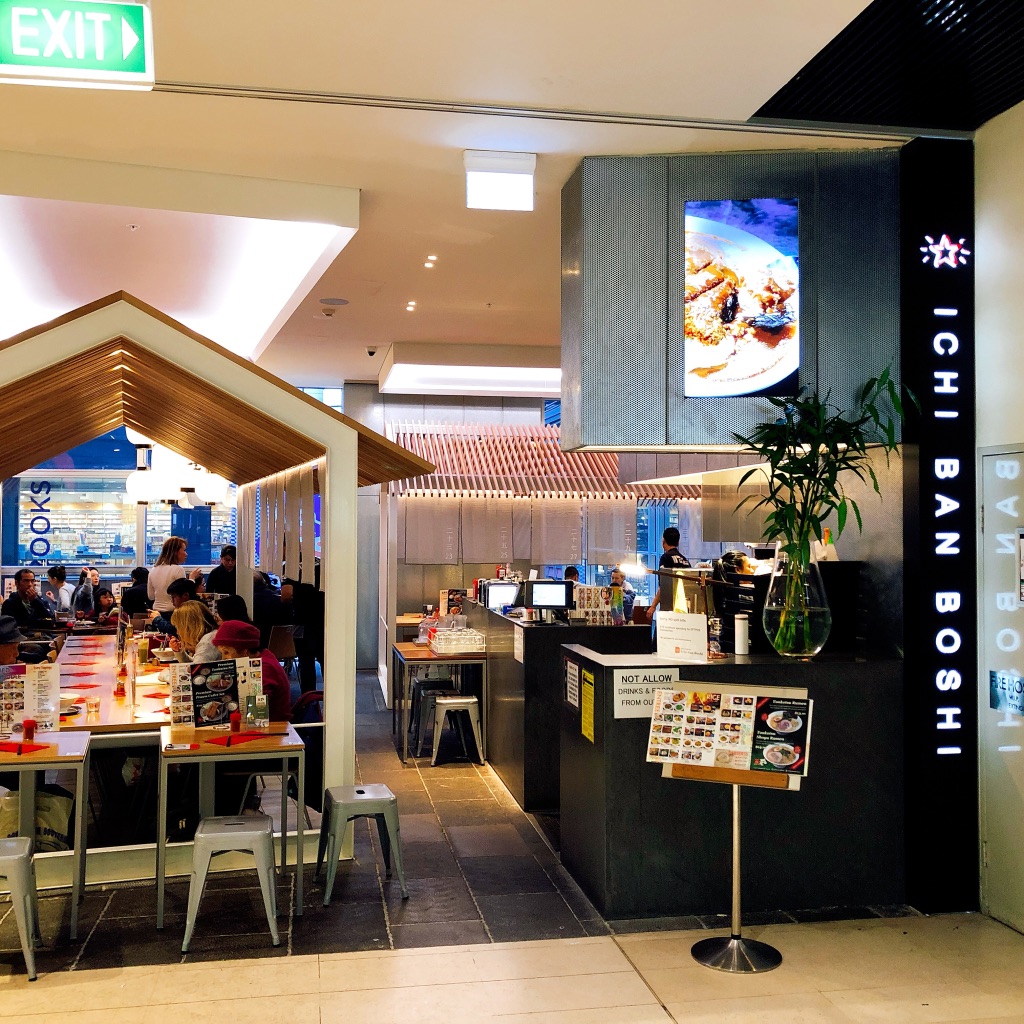 Ramen Zealot says:
Sydney's Ichibanboshi was responsible for introducing Sydney-siders to ramen more than 20 years ago and is serving decent styles that would be the envy of newcomers seeking perfection in the city's emerging ramen scene.
I CAN still remember where I had my first ramen. It was at Japanese noodle chain Ichibanboshi's Sydney restaurant and it was its Tokyo-style ramen – a light soy- based and filling soup that introduced me to ramen. I'm pretty sure a lot of Sydney-siders had their first bowl here too. I stuck wth that style for a few years until I had my first tonkotsu at Ryo's in Crows Nest and like many ramen zealots who have had tonkotsu pass their lips – I never looked back.
I decided to go back to my ramen roots to that little corner of Japan in Sydney's The Galeries shopping precinct (where Muji and Kinokunyia are), to rediscover Tokyo-style ramen as for too long I've been absorbed in the cult of tonkotsu that over-dominates ramen around the world.
Ichibanboshi is the grand-daddy of the Sydney ramen scene. It started back in 1998 when ramen hadn't really got a foothold in Australia (the noodle soup scene was dominated by laksa and wonton soups for some years back then). It's first "noodle shop" was in Bondi Junction and then it opened a couple of more in Sydney, one on Queensland's Gold Coast and, for a limited time, in my old Tokyo stomping ground in Roppongi. There's a very broad menu – the concept back in the 1990s was to introduce Sydney-siders to fast food street Japanese when Japanese convenience food was just sushi and sashimi. Ichibanboshi isn't a ramen-ya, or really a "Japanese noodle shop" anymore, it has evolved into more of a Japanese restaurant over the past two decades. It also claims that it makes all of its own noodles, the chashu and its ramen soup bases from scratch. There also is a Ichibanboshi branded sake (made it seems if I got the kura correct by Ippin).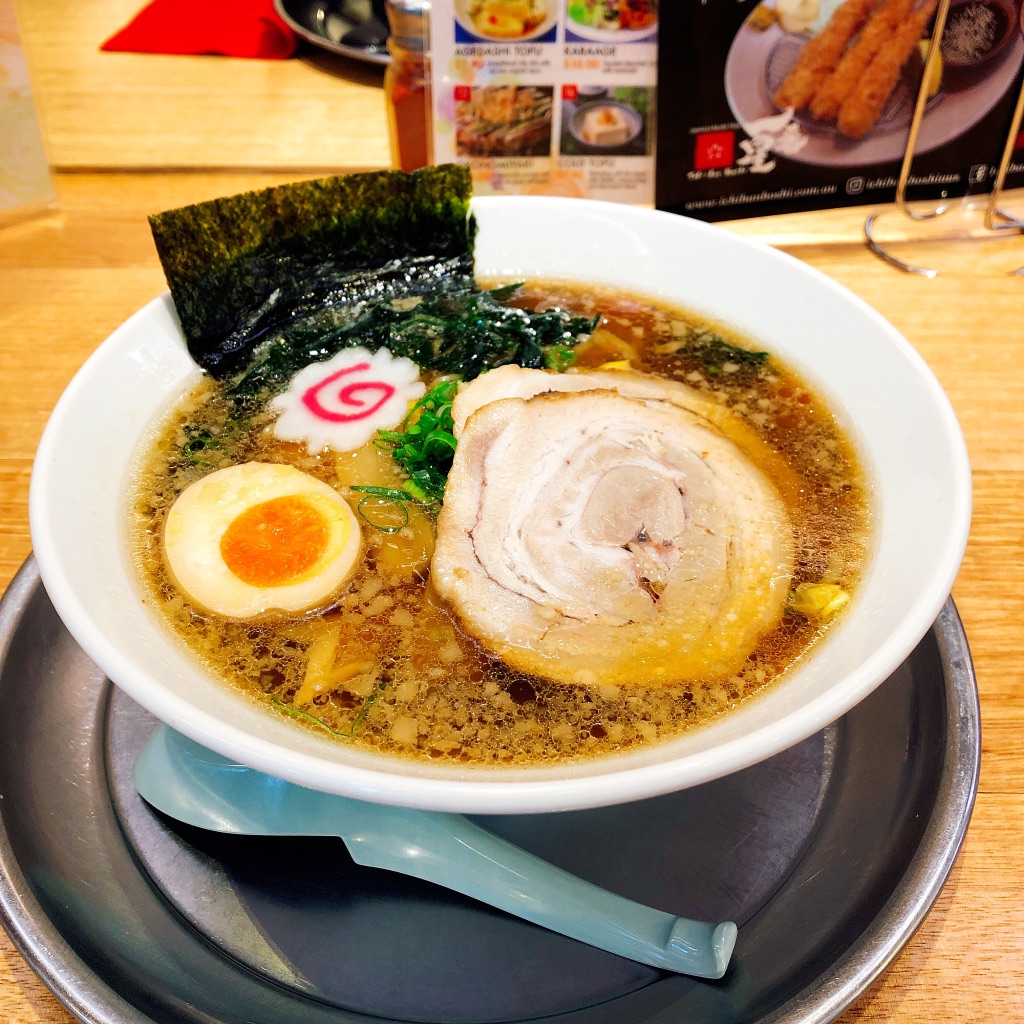 One whiff of my bowl of Tokyo ramen brought back some fond memories as well as why I enjoyed this simple style long ago. It was a light soy infused soup with a good chicken flavour in background with minced garlic stirred in which added an extra flavour boost. It was well balanced and not salty. The noodles were thick style and firm and topped with a good slice of marinated charsu with a perfect fat layer surrounding it. To one side was a sprinkling of corn kernels, a nori sheet, menma, and a piece of narutomaki. The half ajitsuke tamago was well seasoned with the yolk still soft. The ramen was good, really good and I was kicking myself as to why it took me so long to come back here (despite being mocked by a fellow ramen zealot who remarked to me that it was: "so '90s").
I came back to Ichibanboshi the following week just to see how its tonkotsu shoyu ($14.90), fared (and even though I arrived just after noon I still had to wait 10 minutes to get a seat). It was a classic tonkotsu and it performed well in comparison with other Sydney ramen-ya specialising in the style. It had a thin layer of collagen skin forming on top when it was brought out. The noodles were firm and thinner than those in the Tokyo-style I had the week before (which should be the case with this southern Japanese variety). The toppings included wood-ear fungus, chopped shallots, half an ajitsuke tamago and a slice of charsu. For the price (and especially when compared to other ramen-ya that specialise in tonkotsu), I would have preferred another slice of charsu. That being said, it was velvety, not thick with good pork overtones and not over whelming.
Ichibanboshi is a stalwart not only in the Sydney ramen scene but in the city's Japanese dining scene and is responsible for opening Sydney-siders' tastebuds to a variety of Japanese dishes. Despite its years it is still offering fresh experiences and has certainly not gone out of style over time.
Ichibanboshi, Level 2, The Galeries, 500 George St, Sydney NSW 2000
---
---