Ra Ra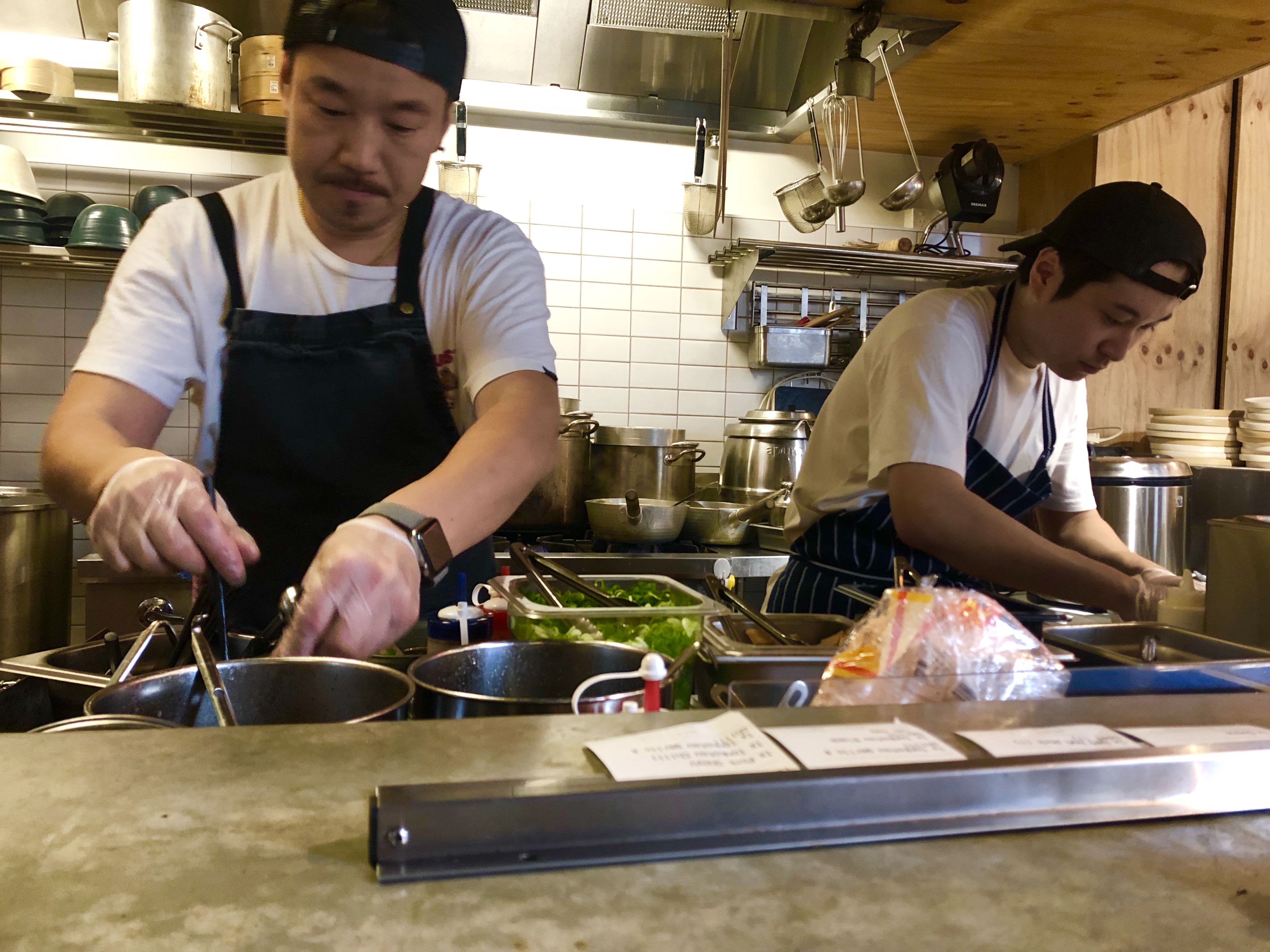 Ramen Zealot says:
With the use of free range and organic produce Ra Ra produces a first-class silky tonkotsu where the ingredients shine.
I ADMIRE non-Japanese learning the art of perfecting Japanese dishes. Take American Ivan Orkin for instance who set up two ramen-ya in Japan (which got a cult following), and then packed everything up and moved back to New York City to open back in the States. Scott Gault did something similar to Orkin. He travelled to Japan to learn how to make ramen and then came back to Sydney to open Ra Ra in inner-city Redfern. Gault was handed down recipes including a tonkotsu recipe which is so strictly guarded that if he goes on holidays the tonkotsu comes off the menu. Of course this isn't so much unusual in Japan with ramen shokunin heavily guarding their tare and soup concoctions.
The 28-seater Ra Ra has a bit of a hip vibe to it and is nothing like what a traditional rameny-ya would be in Japan. There is a great bench area to sit at which overlooks the chefs going about their art as well as a "mezzanine" level with small tables near a bar area. It's sleek, modern and trendy with funky lounge music playing over the speakers. The vibe for some reason, didn't sit well with me for my first visit and I wasn't one with my ramen (not that I want to be forced eating it in a closed booth Ichiban-style to concentrate on the experience), it just felt awkward being surrounded by such flash contemporary surroundings and beautiful people slurping away at a "ramen joint" and I left bewildered.
My next visit left me convinced that Gult's ramen is one of the most refined and elegant tonkotsu in the city.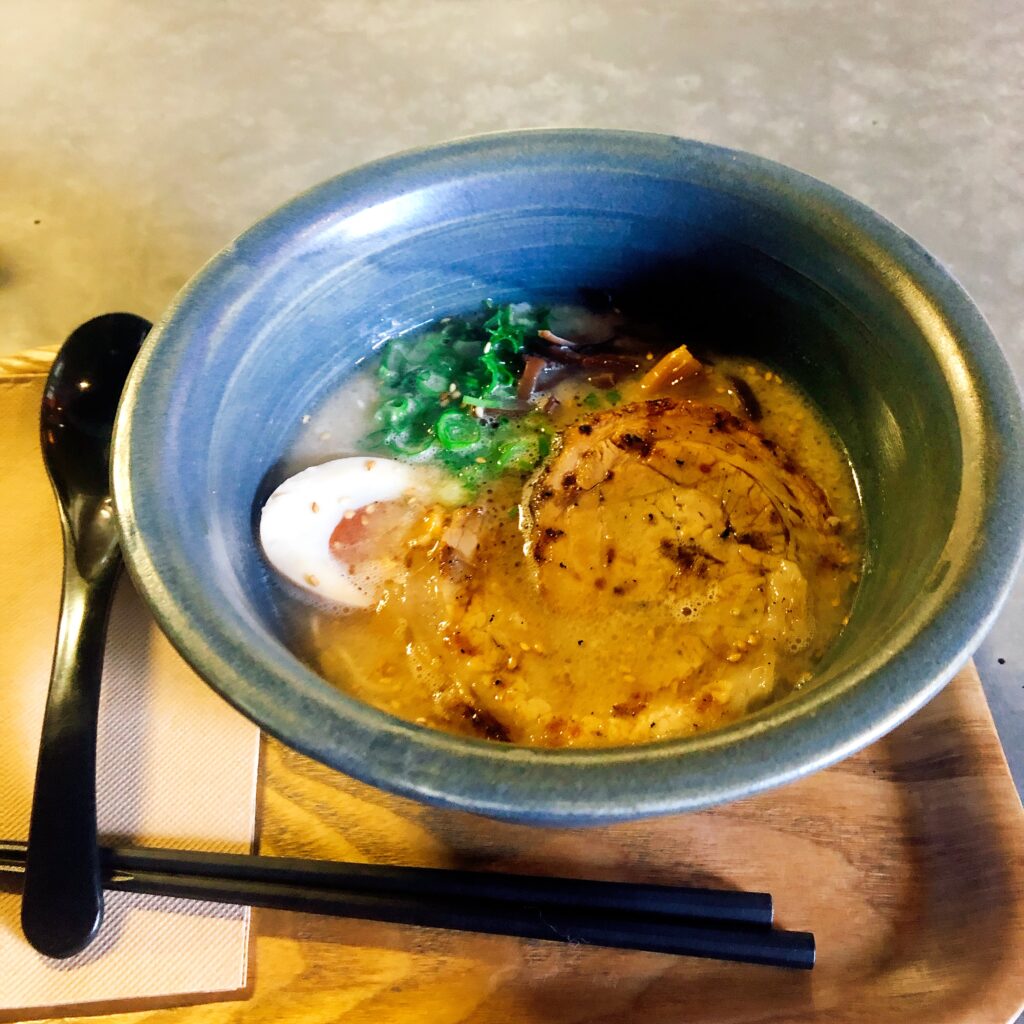 A lot of effort goes into making Ra Ra's ramen and that is evident from the first slurp to the last chew – with every ingredient deliberately chosen to create perfection.  The team makes its own noodles – the thin Hakata–style (which is the original noodle for tonkotsu) from organic flour. A custom-built pressure cooker for making the broth has been imported from Japan. Free-range pork (from Berkshire pigs farmed in southern NSW), is used for the marinated and roasted charsu which is then seared on a coal chargrill before serving, and the ajisuke eggs are free range too. I also believe that the menma is made in-house. The use of such exacting ingredients has a profound effect on the final bowl which is conspicuous in the ramen's look, feel and taste. Gualt is obviously being driven to achieve what the Japanese term kanpeki (perfection) in his ramen.
Of course use of such ingredients lifts the price ($16.90 for the standard pork shoyu), but for this investment you really do get a quality bowl where the produce shines.
The piece of charsu is heavenly, you can taste the quality of the piggy and by finishing it off on the chargrill and then straight into the bowl adds a smoky fatty infusion to the soup. You get one piece but it is thick and round and juicy and is more than adequate. The soup is a classic milky Hakata broth which gives a silky collagen coating which is boosted by that smokey pork fat that has infused it and a shio tare. The noodles are perfectly firm (and watching the chefs at work they "soak" the noodles in a little of the tare and soup before serving (so as to take on some of the flavour profile of the tonkotsu), before adding the toppings: menma; wood fungus; chopped spring onions and the marinated ajisuke egg.
Ra Ra may be on the slightly high end price spectrum for Sydney ramen but the use of free range and organic ingredients and virtually everything made on site creates a truely satisfying and definitive first-class ramen.
Ra Ra, 60B Regent Street, Redfern NSW 2016 Australia
Open Tuesday to Sunday noon to 2.30pm; Tuesday and Wednesday from 5.30pm to 9.30pm and Thursday and Friday from 5.30pm to 10pm.
---
---